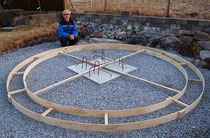 Forskalingen til grunnmuren er nå ferdig. Med både innvendige og utvendige støtter (kun innvendige støtter er vist på bildet til høyre), er dette en stiv forskaling som er meget enkel å lage.
Avstandsstykker
Avstandsstykker av tre er festet til sargene med treskruer. Avstandsstykkene er 25 cm lange. Ringen får da samme brede som Lecablokkene som blir limt oppå sålen. Avstandsstykkene vil bli fjernet når forskalingen er forankret på plass med betongblokker.
Sentrering
To staver festes i kryss på ringmurens krumningssentrum. Stavene er 3 meter lange, samme som den indre diameter av forskalingen. Disse sørger for at forskalingen er nøyaktig sentrert på kuppelens rotasjonsakse. I tillegg holder de forskalingen sirkulær.
Teleskopmonteringens basisplate er forskjøvet 9 cm nord for kuppelens rotasjonsakse. En lang treskrue binder de to lange staver i skjæringspunktet. Skruens spiss hviler i en forsenkning i betongsålen. Forsenkningen markerer kuppelens rotasjonsakse. På denne måten blir forskalingen nøyaktig sentrert omkringen teleskopmonteringen med ca. fem millimeters nøyaktighet. Nøyaktig sentrering er nødvendig fordi det blir liten klarering mellom utstyr montert på primærfokus, og kuppelveggen.