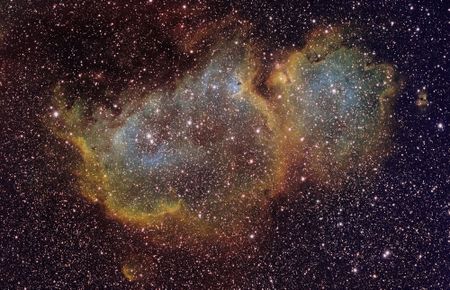 Ved å slippe gjennom bølgelengder (farger) som blir utstrålt av hydrogen, oksygen og svovel, kan vi produsere bilder som viser fordelingen av disse grunnstoffer i gasståken. Dette kalles smalbåndsastrofotografi. Her ser vi et smalbåndsfoto av IC 1848 i stjernebildet Kassiopeia, som egner seg bra til fotografering i november, fordi det ligger rett over oss rundt midnatt ved våre breddegrader.  
Dato: 13.november 2017 
Lokasjon: Rennesøy
Teleskop: Skywatcher Esprit ED 120 mm f/7 apokromat
Montering: ASA DDM160
Kamera: Apogee U16M, CCD temperatur -30 C
Lukkertid: Luminøsitet, Ha, OIII, SII 20/40/20/40 min
Problemer med fininnstilling av drivmotorens PID-kontroller (proportional–integral–derivative controller) forårsaket periodevis ujevn tracking. Dette reduserte nattens fangst av gode sub-eksponeringer. Smalbåndsastrofotografier krever mange timer med sub-eksponeringer gjennom tre filtre som slipper gjennom lite lys. Dette bildet består av totalt bare to timer lukkertid, inkludert kun tjue minutter luminøsitet. Dette er altfor korte eksponeringer for smalbåndsbilder. Derfor er bildet preget av støy, som gjør seg gjeldende ved full oppløsning.
Denne høsten på sørvestlandet har bidratt med ytterst få klare, måneløse netter for astrofotografering. Ved 59 grader nord begynner astronomisk tussmørke (solen 18 grader under horisonten) 19.august. I løpet av de tre påfølgende månedene har vi hatt knapt to klare netter uten måne i Rogaland.