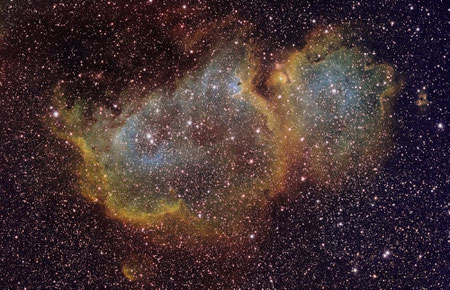 Narrow-band image of IC 1848. North is up. 
Date: November 2017 
Location: Rennesøy, SW Norway
Telescope: Skywatcher Esprit ED 120 mm f/7 apochromat
Mount: ASA DDM160
Camera: Apogee U16M, CCD temperature -30 C
Exposure time: Luminosity, Ha, OIII, SII 20/40/20/40 min
Problems with the fine tuning of the direct-drive motor's PID-controller (proportional–integral–derivative controller) caused occasional fits of erratic tracking, which adversely affected several sub-exposures. Narrow-band images require many hours of sub-exposures, whereas this image is only two hours in total, including only twenty minutes of luminosity. These are far too short integration times for narrow-band sub-exposures. That is why this image is very noisy, - with distinct graininess at full resolution.
The unusually cloudy fall season in south-west Norway has provided few clear, moonless nights for astrophotography. At 59 degrees north latitude, the bright summer nights succumb to astronomical twilight only after August 19th. For the three months since, there have been only two cloudless, moonless nights in SW Norway.